TC Explorer Toolbar
File filter: Enables you to select which files will be listed for a selected folder of the explorer tree. You can define your own file filters in the Palette Options (last icon).

Back and Forward: Scrolls backward or forward in the explorer tree.

Level Up: Moves up to the higher folder in the explorer tree.

View: Determines how the contents of the folder are displayed: icons, thumbnails, detailed list, etc.

Sort: Arranges the contents of the folder by date, size, etc.

Palette Options: Sets the palette display and file filters.

The Panel tab contains choices for panel appearance, and enables you to select what components of the palette are visible.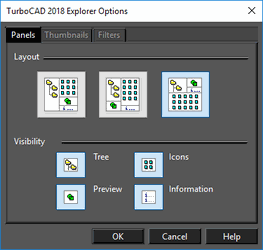 The Thumbnails tab enables you to control the size, shadows, and borders of thumbnails.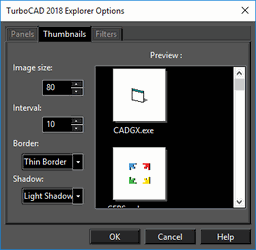 Image Size and Space are both measured in pixels. Space refers to pixels around the icon plus its name. The Filters tab enables you to add, delete, or edit file filters. Filters control which files appear in a folder's contents, and are set according to file extensions.