This is description of the RedSDK to Lightworks converter in TurboCAD.
Introduction
While TurboCAD supports two rendering engines: RedSDK and LightWorks, in the current version of TurboCAD, only the LightWorks rendering engine is included with the product. Accordingly, because there are many users who have many TurboCAD drawing which were rendered in previous versions using RedSDK, we've created a method of importing those RedSDK-rendered files and mapping their Render Attributes (i.e. materials, luminance, environments and render styles) to that of the LightWorks rendering engine.
Porting RedSDK's attributes to LightWorks was only possible to do manually before. Such a procedure could require a lot of effort and time. The automatic conversion, available in TurboCAD, greatly simplifies this work, however.
LightWorks render of Tutorial - rendering of RedSDK* without (on the left) and with (on the right) porting of attributes:
TurboCAD UI changes for porting of Render Attributes
In TurboCAD, there are following options that are added to TCW 'Open\Setup' dialog:
*Porting RedSDK's attributes to LightWorks is* 'off' by default
*Overwrite LightWorks existing items is* 'on' by default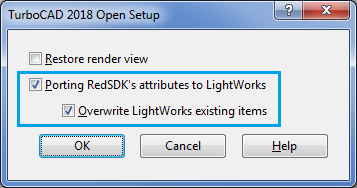 If this option (1) is switched on, the RedSDK's attributes will be converted to LightWorks.
If this option (2) is switched on, the existing LightWorks attributes will be overwritten. This option can enabled only if option (1) is switched on.
Samples
*Tutorial - rendering of RedSDK
The example uses:
Materials with texture (wood) and metals
Lighting: image basing lighting (IBL)
Environment: white background
Render: global illumination (GI)
RedSDK render (on the left), Lightworks render (on the right) after porting of attributes:

Jet motor
The example uses:
Materials: metals
Lighting: image basing lighting (IBL)
Environment: image, environment map
Render: global illumination (GI)
RedSDK render (on the left), Lightworks render (on the right) after porting of attributes: