Default UI Menu: File/Print
Ribbon UI Menu:
Hotkey: Ctrl+P
Icon on Standard Toolbar:
Provides a set of tools for printing a single view of a drawing, or printing specific sheets drawing spanning multiple sheets of paper.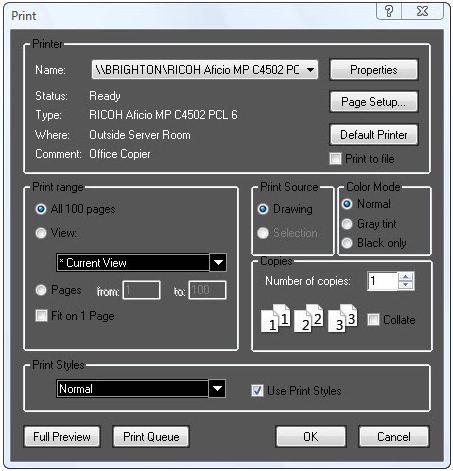 Printer: Select a printer and manipulate its properties. Name: Select the desired printer from the drop-down list. All printers set up on your system should appear on this list. Properties: Opens the Properties window for the selected printer. Page Setup: Controls exactly how drawings will be printed. Default Printer: Selects the Windows default printer. Print to File: Prints the document as a file instead of routing it directly to a printer. You will be prompted to specify the filename and location. Print Range: Options for setting a specific view of the drawing to print, and for selecting a range of pages when printing a drawing that spans multiple printed sheets.
Tip: This is useful for printing tiled drawings if you only want to print specific pages.
All: Prints the entire current drawing. If you choose Selection under Print Source, only objects that are selected will be printed. If your drawing spans multiple printer sheets, the total number of sheets will be shown in this option title. View: Prints a single view of the drawing. You can print the current view by default, or click in the list box and choose any named view. Pages: Prints a range of pages if the Page Layout is set to print multiple pages. The printer sheets are counted starting in the lower-left corner from left to right, and from bottom to top. Fit on 1 Page: Prints everything on a single page. This option can be used either for printing a view or printing the entire drawing. Print Source: Select what you want to print. Drawing: Prints the current drawing. Selection: Prints only selected objects. Color Mode: Normal: Uses the predefined printer settings. Gray tint: Used for color printers. Disables color mode and prints in black and white, using grey tints for other colors. Black only: Disables color mode and prints in black only; no grey tints are used. Copies: Sets the number of copies and whether you want multiple copies to be collated. Print Styles: Sets the print style to be used while printing. Full Preview: Previews your drawing before printing.
Print Window
You can create printouts by arbitrarily specifying a window of the desired area of a drawing.
Go to the Print dialog.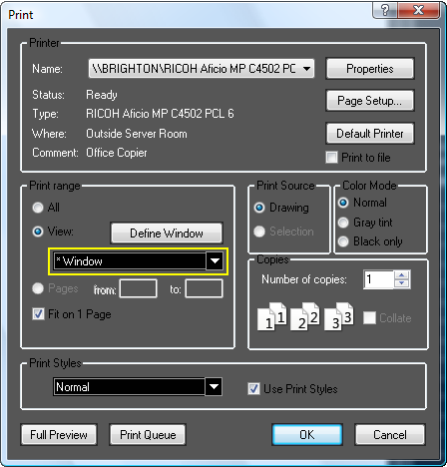 Change the Print Range to View

In the View drop-down select Window.

Press the Define Window button

Click two points to define the print window.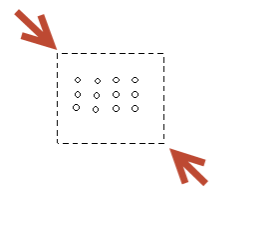 When the Print dialog reappears click the Ok button. If you wish to review the print area prior to printing click the Preview button.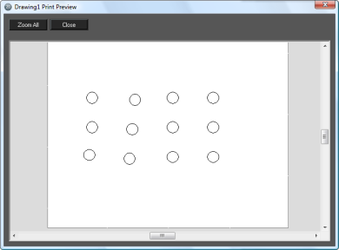 You can zoom in Print Preview windows, prior to printing to be sure things are looking correct Such as line thickness etc. You can zoom in and out using the wheel mouse on the print preview