Event Viewer
Default UI Menu: Tools/Palettes/Event Viewer
Ribbon UI Menu:
The Event Viewer palette creates a log detailing Error and Warning events effectively improving access to the TurboCAD diagnostic information.
Local menu
Clear – clears all events
Write to Log File – turns on/off the recording to the log file.
Open Log File – opens the log file in a text editor.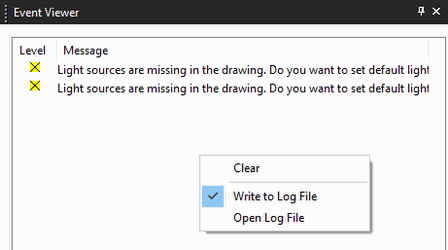 Level
The icon shown under the 'Level' field can have 3 colors with the values: YELLOW = Warning, RED = Critical, and GREEN = Info If the 'Show' parameter of a warning dialog is set to 'Off', the icon in the Event Viewer will be displayed with a strikethrough X.