The Selection Info palette can be used to edit parameters of the imprint itself, as well as the fillets and/or chamfers.
Select the imprint, and its Part Tree appears at the top of the palette. Under Imprint, highlight Simple Extrude.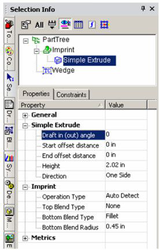 At the bottom of the palette, the Simple Extrude category contains parameters for the imprint body: Draft Angle: Creates an extrusion of increasing or decreasing cross-section. Enter the angle of deviation from the extrusion path.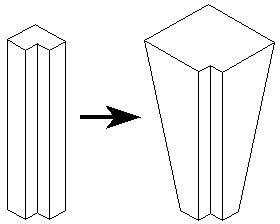 Draft Start / End Distance: If Draft Angle = 0, you can specify a draft angle by entering the offset distances. Height: The distance of the extrusion. Direction: Switch between one-sided and two-sided. The Imprint category is where you can change the imprint type (Auto Detect, Add, or Subtract) and change or remove fillets and chamfers and change their radii.