Default UI Menu: Modify/Modify 3D Objects/3D Assemble
Ribbon UI Menu:
The Assemble tools are used to position a 2D or 3D object relative to another object.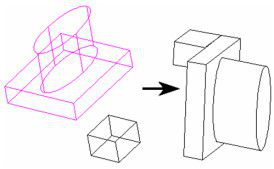 The Assemble tools can be used on 2D and 3D objects. For the objects you want to use, be sure the Selector is set correctly (2D, 3D, or both). 2d-3d-selector-1.html). These tools are available on the 3D Modify toolbar, which you can display by right-clicking in any toolbar area and selecting 3D Modify.

Note: The Transform tools also enable you to move objects, as well as scale and copy, and do not require information as accurate as that required by the Assemble tools. In addition, you can record Transform operations for use on other objects.