(Available in Pro Platinum, Expert and Deluxe)
Default UI Menu: Modify/Modify 3D Objects/3D Assemble/Assemble by Facet
Ribbon UI Menu:

Changes the position of an object by aligning facets.
Select the source facet of the object to be repositioned. To select a facet behind or in front of the indicated facet, you can use the Page Up and Page Down keys.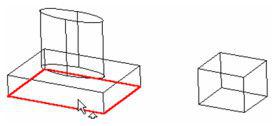 |
Select the destination facet.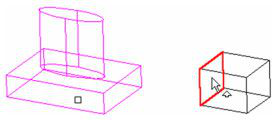 The object is moved so that the source facet meets the destination facet. The results are shown here in Hidden Line render mode.