You can use the mouse to control the display of the images in the following ways:
You can zoom in by rolling the mouse wheel forward.
You can zoom out by rolling the mouse wheel backward.
You can pan by holding the mouse wheel down and dragging.
You can pan by holding the left mouse button down and dragging.
Clicking the right mouse button will open a local menu which provides zoom commands and a Copy image command.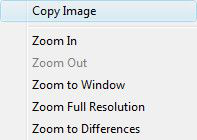 Copy Image
The Copy image command from the local menu allows you to copy the current image on the screen to the Windows clipboard. You can then paste that image into documents and other applications as a bitmap. This allows you to use the image in emails; Word files, CAD files etc. for use as notation, comment, illustration or documentation. The image will be captured at the full size of the image map specified by the Image Size setting in the Settings dialog. If the Image Size is set to 1000, the resulting image will be 1000x1000 pixels.