For all rounding types, you can use the Unequal Radius option to specify the radius at the start and end of the edge.

Specify the Start Radius and End Radius in the Inspector Bar.

Select the object, and select the edge or edges to round. For each edge, a small magenta arrow indicates the direction of the edge, so that you will know where the Start Radius and End Radius will be applied. You can reverse the direction by pressing Ctrl and selecting again.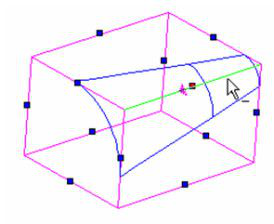 The edge is rounded with an varying radius.