Rounding the vertices produces a smooth rounding along corners. This example will use the following model, with one filleted edge.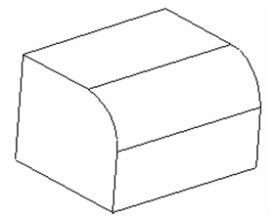 Select RoundVertex in the Inspector Bar or on the local menu.

Select the object whose edges are to be chamfered. Each edge is marked with a blue square. If you select Hide Marks, these edge markers will be hidden.

Select the first edge to chamfer. When an edge is selected, the blue square turns red. A preview appears indicating the chamfer size. If you select an edge that is smoothly connected to other edges, the connected edges will be selected automatically.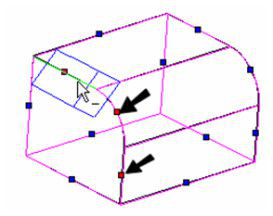 -
Note:Adjacent edges are smoothly connected if they are connected by an arc or rounded vertex.
Continue selecting edges, if needed. (You can also drag a window to select multiple edges). In some cases, selecting an edge (such as the bottom front edge) will cause another edge to be chamfered as well (the bottom side edge), because they meet at a common vertex. These edges are indicated by a green square.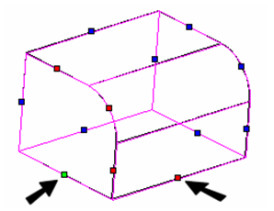 When all edges are selected, set the chamfering offsets in the Inspector Bar, and select Finish from the Inspector Bar or the local menu.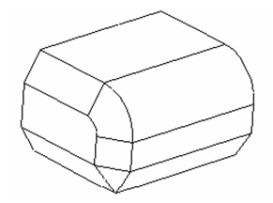 Viewing the results in render mode shows the affect of chamfering. The common vertex is smoothly rounded.