Tangent to 2 Arcs
Default UI Menu: Draw/Line/Tangent to 2 Arcs
Ribbon UI Menu:

Creates a line tangent to two arcs or circles.
Select one of the tangent objects - arc, circle, or ellipse.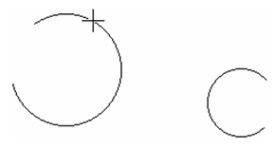 The tangent line extends from this object. To switch the side of the line, pass the cursor through the point of tangency. Adjust the line so that it is close to the desired point of tangency.

Select the second tangent object, close to the point of tangency. The tangent line is created.