Editing a Group
This example will use the following group, consisting of four objects: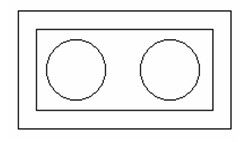 Select the group, and select Edit Group Content. If the Selection Info Palette is open you can also click the Edit Content button on the palette toolbar.

You are now in edit mode, and the screen contains only the group's objects. You can add objects, delete objects, or edit existing objects. Whatever appears on the screen will become part of the edited group.

When finished, select Finish to Edit Group, or click Finish Edit Content in the Selection Info Palette.

The group now contains the edited and new objects.