(Available in Pro Platinum and Expert)
Default UI Menu: Tools/Create Hatch Patterns
Ribbon UI Menu:
TurboCAD's Hatch Pattern Creator (HPC) opens the door to a whole new world of customized hatch patterns. Use existing patterns, create your own patterns from scratch, or combine existing patterns with your new ideas and maximize the potential of both. Creating and editing hatch patterns has never been easier or faster. The HPC a tool icon

will appear below TurboCAD's main toolbar and a menu item will appear in the Tools menu.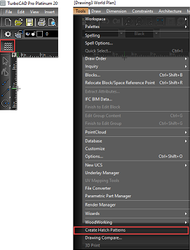 When you select either the button or the menu item the HPC will appear in the Inspector bar.