Default UI Menu: Modify/Modify 3D Objects/Create Surface/From Face(s)
Ribbon UI Menu:

Enables you to create a surface from selected planar facets of solid objects.
Start with a solid that has planar facets. This example uses a 6-sided polygon extruded (using Simple Extrude) into a solid.
Activate Facet Edit and select one or more faces.Use Shift to select multiple faces.
Activate the Surface from Face(s) function, and the selected faces are now surfaces. The rest of the solid is deleted.
​ The selected faces do not have to be contiguous; surfaces can be created from any face(s).
​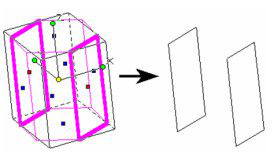 ​ 4. You will be prompted as to whether you wish to retain the original object.
​