Resource Gallery
The Resource Gallery shown on the right side of The Print Shop for Macintosh allows you to add objects to project pages quickly. It provides quick access to photos, clip art, shapes and lines, layers, page layouts, backgrounds, and headline styles.
Note: Clicking on the Resource Gallery heading will hide the gallery.
To use the Resource Gallery: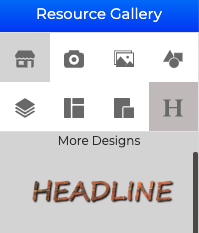 The first tab opens a window with thumbnails of design templates and clip art that can be added to The Print Shop for Macintosh. Clicking on an item will open a website where the item can be downloaded or purchased. Includes free items.
Click on any of the other icons at the top of the gallery to show available resources.
To add a resource to a page, click on it, hold down the mouse button, and drag the mouse to the page canvas. When you release the mouse button, The Print Shop for Macintosh will place the object at your current cursor position. You can also double-click on an object to add it to the page.
Some resource types include a Browse button. Click the button to change the current set (folder) of resources, and then click on a new folder. Click on plus or arrow symbols to expand folders in the Clip Art Category or Choose Photos Folder window. Then click the Open button.
If the Photos icon is selected, the gallery shows the thumbnails of all the photos in the current photo folder. The name of the folder appears at the top of the pane.
Photos: If the page has an unfilled photo box, you can fill the box by clicking on the Photos icon and then dragging one of the photo thumbnails over the box. The box will highlight in blue to indicate that it will be filled. When you release the mouse, the photo will be placed in the box.
Photo Layout Notes: When you drag a photo layout option to the page, The Print Shop will update the page with the new layout. Please be aware that if you choose a layout with fewer photos than the current page, The Print Shop will remove some of the photos from the page. Photos on the page will be cropped to accommodate the layout. It is best, but not necessary, to choose layouts that contain the same type of photos as the current page.
Layers: Arrange canvas object layers by dragging objects above or below other objects.