Using the Ready-Made Template Wizard
The Ready-Made Template process creates a project from professionally-designed page layouts.
If the Project Wizard is not already open, you can get to it by choosing File > New Project from the menu and clicking on CREATE FROM A READY-MADE TEMPLATE.
---
Selecting a Project Type and Template
In the Project Wizard you will choose the type of project and Ready-Made Template that will be the basis for your project.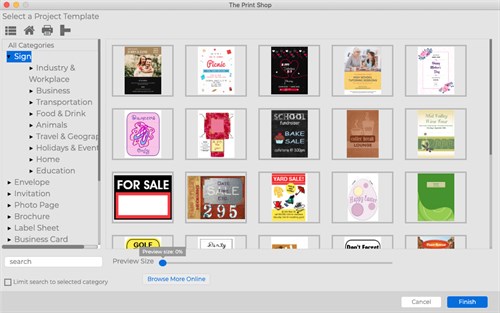 Click on a tab at the upper left of the window to sort project templates:
Print at Home - All projects, grouped by type
Print Professionally - Projects that can be printed professionally
Matching Sets - Projects with coordinating design themes
All Categories - All projects, organized by category and subcategory
Click on a project type from the list at the top left of the window to see available choices.
Search for a project by typing keywords into the Search field below the project type list. This will search all templates unless the "Limit search to selected category" box is checked.
Click on a template in the Preview area (middle of the window). A preview of the template will appear in the Pages Preview area (right side of the window).
To get a more detailed view of the template or page previews, drag the Preview Size slider under the Preview area or Pages Preview area to the right. Drag the slider to the left to see more templates or pages.
You may need to scroll down and click through multiple pages to see all of the choices available in the Preview or Pages Preview areas.
(Matching Sets and Categories tabs) Click on the plus symbol or arrow next to a type to display subcategories of the project type.
When you have chosen the template you would like to use, click Finish.
---
Project Creation
The Print Shop for Macintosh will now create the project. This process may take a few moments. When the project is complete, The Print Shop for Macintosh will display the project. The Page Canvas will display the first page of the project, while a preview image of all the other project pages will appear in the Page Thumbnails bar near the bottom of the screen.

To begin editing pages and photos, see the topics starting with Project Pages