Address Book Editor
The Address Book will allow you to create or import contacts and define groups of contacts for use with mail merge projects such as mailing and return labels, invitations, post cards, envelopes, etc.

Creating a Contact
To create a contact open Address Book from the Share tab. The Address Book dialog is divided into two main areas, the left is Address Groups, the Right is individual contacts. Press the Add button under the All Contacts area to make a new entry. When the dialog appears enter relevant contact details such as name, address, city, state, zip, etc. and click Save.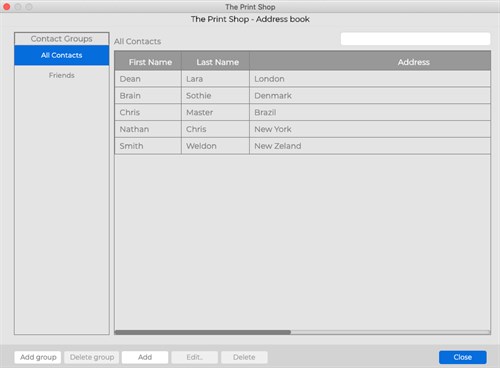 ---
Import from Flat File
You can also import contacts from a Flat File or a comma separated file. Click the Import from Flat File button, then click browse button to locate your data file. The Print Shop for Macintosh will load a preview of the file on the left and allow you to match up the fields with The Print Shop for Macintosh Address Book using the drop downs on the right.