Shortcuts
Shortcut keys provide access to creating and modifying user defined command keys. Multiple shortcut key sets can be defined. These key sets can be used in support of multiple users sharing a common workstation or multiple design modes. The shortcut key dialog manager displays a list of commands and allows the designer to assign associated keys.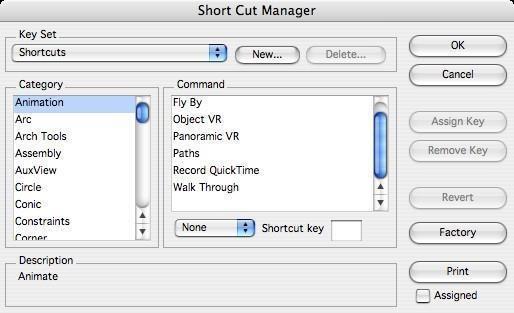 As you become more proficient with Punch! Shark, you may elect to use the shortcut keys to issue commands. Shortcut keys require less mouse movements to access frequently used commands, but require that the user memorize command keys or position a "cheat" sheet nearby. This chapter describes features for accessing capability through the typical Apple character prefix and special SharCAD keys.
Key Set
Used to activate the current key set.
New…
Click this button to input a name for a new key set.
Delete…
Click this button to delete an existing, user-defined new key set. The system-defined "Shortcuts" key set cannot be deleted.
Category
This section lists the available command groups.
Command
This section lists the available commands within the selected category. Any existing shortcut assignments are also indicated in this list.
Shortcut key
Displays the shortcut key for the selected command list item. Also used to change or assign a shortcut to the selected command list item.
Description
A brief description of the selected command list item.
Assign Key
Assigns the specified shortcut key to the selected command list item. Any existing shortcut for this command is removed.
Remove Key
Removes the specified shortcut key from the selected command list item.
Revert
Changes the keys back to the point where the dialog box was first displayed.
Factory
Changes the current shortcut key set assignments back to the original installation values.
Print
Prints a listing of all keys and their assigned keys.
Assigned
If checked, only the shortcut keys that are assigned to commands are printed. If not checked, all keys are printed.