Controlling the Display
The display controls how three-dimensional objects are transformed to a two-dimensional screen. Two important features for controlling the screen are the view and zoom tools. A view describes the orientation of your eye position and direction towards the model. Example view operations include the side, front, top, and isometric options. Zooms describe a window looking into the model defining the scale and clip extents. Example zoom operations are pan, extents, and scale. This chapter introduces you to the following display functions:
Predefined Views
Zoom Options
View Tool Palette
Predefined View Short Cuts
Predefined Views
(ViaCAD Deluxe and ViaCAD Pro)
ViaCAD supports eight predefined views. You can change to a predefined view by accessing the View option from the Menu Bar on top of the screen.

Six of the predefined views locate a viewer such that they are looking parallel to the model axis. The other two views allow isometric viewing from the front and back of the model.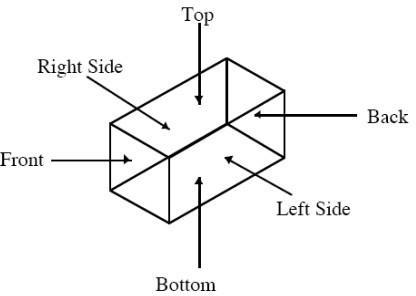 Predefined Views
Zoom Options
Zooming is a view operation used to increase or decrease the view scale of your drawing. ViaCAD supports nine zoom view commands. Zoom commands include zoom in, out, previous, all, window, home, ratio, scale, select. For a full description of these commands see the documentation for Menu Bar commands.
Predefined View Short Cuts
The default configuration of ViaCAD has the following short cuts defined for viewing operations. To change these settings, go to the Short Cuts dialog box located under the File option in the Menu Bar.
View Orientation
a Right Side
s View Front
d View Top
f Isometric View
g Trimetric View
Zooming
e Zoom All
] Zoom In
[ Zoom Out
w Zoom To Window
Predefined Mouse Operations
ViaCAD has four predefined view operations associated with the mouse buttons.
Mouse Button
View Operation
Space/Left Button
Pan Views
Wheel Button
Zoom In/Out at Cursor
Control/Apple Right Button
Rotate View via Cursor
Some of the new mice will allow you to assign keys to the mouse buttons and the scroll wheel. If you have a mouse that does this, you can assign a key (i.e. "z") to the mouse button, then within ViaCAD assign the key (i.e. "z") to one of the many viewing operations in the File: Short Cuts dialog box.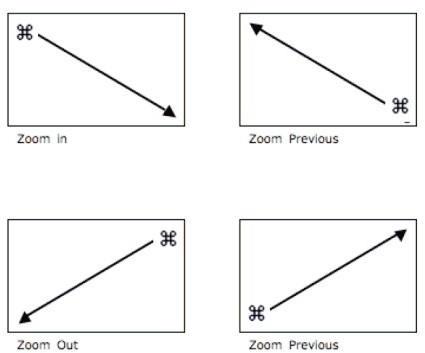 You can also perform in-stream zoom commands by pressing either the apple key.
Save Layers with Views
The Save Layers with View tool tool now includes an option to save layers associated with view orientations.
Highlights of the Save Layers with View option:
Save View:
Use the View : New View tool to create a view with the option to save layers.
Restore View:
To restore a view, select the View : User View :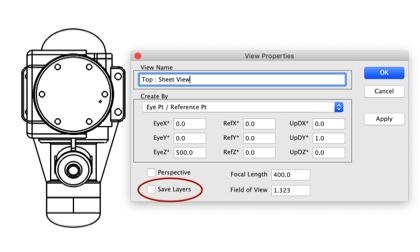 Save Layers with Views Dialog