Print Layout
The Print Layout command lets you set up the page size, orientation, and other page layout options for printing of a SharkCAD file.
The Drawing Size command located in the Layout pull down menu allows you to see the size of the maximum plotting/printing area relative to the drawing and to specify the scaling of the drawing so it fits the paper size and orientation set by the Page Setup... command.
Setting up the Drawing Size
If the drawing is larger than a standard piece of paper or so small that it would be impossible to use it at full scale, you must set the Drawing Size. The Drawing Size command allows you to set the page width, height, show page breaks, tile prints, and set the drawing scale. With any of these methods, the geometry itself does not change scale; it only changes visually, not physically. SharkCAD supports four
modes for setting up a print layout: Single Page, Height and Width, Rows and Columns, and Advanced. The modes are detailed below.
Single Page Mode
In this mode, all printing is forced to fit on a single sheet of paper as reported back from your system's printer interface.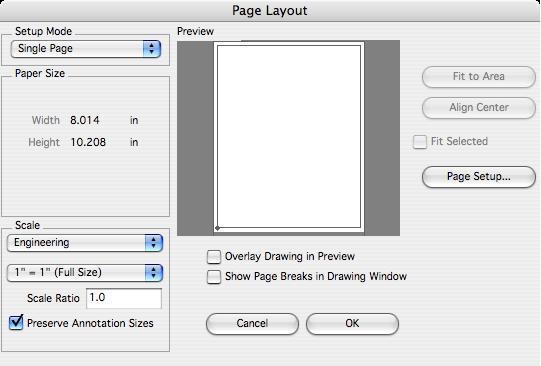 Height and Width Mode
In this mode, printing is targeted to a user-defined, arbitrary drawing size. The drawing size is specified using the current unit of measure. The drawing size is not limited to the physical paper size in your printer. As needed, the drawing will be tiled to fit the physical paper size supported by your printer. The tiles are indicated in the preview by the lighter matrix of lines within the drawing border. In this mode it is possible to have "excess" paper along the top and right edges of the drawing. The lighter tile matrix lines extending past the drawing border indicate this situation.