3D Print Check Tool

(Available in Platinum, Professional, and Deluxe)
Default UI Menu: Tools/3D Print Check Tool
Ribbon UI Menu:

Before sending your design to your 3D printer, gain valuable information about your 3D model regarding its printability. This new tool will effectively identify any issue in your design before sending it to the printer, and allow you to then fix it in TurboCAD. The Print Check tool provides General Information about select 3D Objects, as well as specific entity information including:
Open Edges
Non-Manifold Edges
Collapsed Facets
Duplicate Facets
When the tool is activated, icons will appear on the Inspector bar. These icons are used for the following functionalities:
Select All Drawing
Select Single Graphic
Show General Information
Open Edges
Non-Manifold Edges
Collapsed Facets
Duplicate Facets
Using 3D Print Check Tool:
Enable 3D Print Check Tool from the Tools menu
Select object by "Select All Drawing" or "Select Graphic".
Select the desired option to display the information.
Inspector bar and Local Menu Options:
Select All Drawing: Selects every object in the drawing.

Select Graphic: Selects a specific graphic.

Show General Information: Shows general information in 3D Print Dialog.

For example: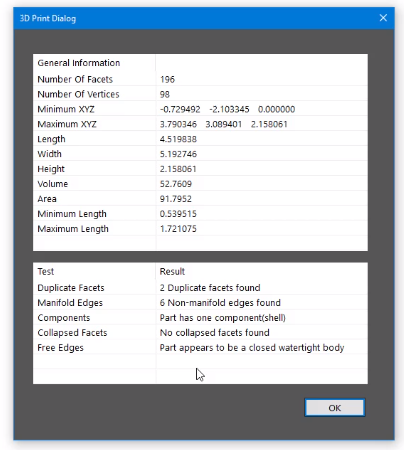 Select Open Edges: Displays Open edges.

Select Non-manifold Edges: Displays Non-Manifold edges.

Select Collapsed Facets: Displays Collapsed Facets.

Select Duplicate Facets: Displays Duplicate Facets and asks if you want to remove them.
On clicking "Yes", duplicate facets are removed.