Using the Trim tool with Architectural Objects
(Available in Platinum)
The Trim tool can be used to trim Roof Slabs, and Walls with closed 2D objects. The 2D object must be on the same workplane as the 3D entity to be trimmed. Use Workplane by Entity to set the correct workplane before drawing the trimming object. Since the workplane for walls is horizontal not vertical the effects of the trim are more limited. To Trim an architectural object with the Trim tool:
Select the Trim tool.
In the Inspector bar or Local menu select the Extract closed contour from closed entity option.

Select the object that will be used as the trimming entity.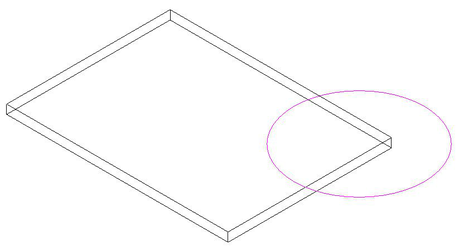 Select the object to be trimmed.
Select the part of the entity that is to be trimmed away.