Getting Help
Getting Help
There are several ways to get help with DesignCAD while you are working.
DesignCAD Help
Menu: Help / DesignCAD Help
Shortcut Key: F1
To get help quickly as you work, choose the DesignCAD Help command. When the Help window appears, you can display information on DesignCAD commands, or get a definition for a term you do not understand. You can also get help whenever you see an error message or if you need more information about an option in a window.
With Help, you can:
Search for topics associated with a word or phrase.

View instructions in Help while you perform a task in DesignCAD.

Add your own notes to a Help topic.

Mark topics you often use so you can jump to them quickly.

Print a copy of a Help topic.
You can view Help side by side with a drawing so that both windows remain fully visible while you work. To display Help and your drawing at the same time, resize the windows so they do not overlap.
Tip of the Day
Menu: Help / Tip of the Day
Opens the Tip of the Day window, showing
various tips for using DesignCAD.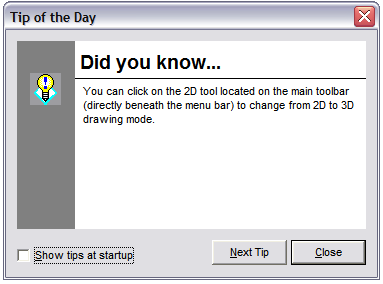 To view another tip, click Next. Click Close to close the Tip of the Day and return to DesignCAD.
If the Show Tips at Startup option is checked, the Tip of the Day will appear when you start DesignCAD.
About DesignCAD
Menu: Help / About DesignCAD
Displays information about the program, including the DesignCAD release date, who the program is registered to, and the serial number. The command also offers a direct
link the DesignCAD website. You can also find information about your computer system by pressing the System Info button.