Colors
DesignCAD gives you 64 basic drawing colors. By default there are eight base colors in eight deepening shades. However, if the supplied colors don't meet your needs or fit your tastes, you can create your own.
NOTE: *Colors of objects can be changed in the Info Box. Also, to change User Interface colors, such as backgrounds, grid, etc.,
By default, the Color Toolbox is displayed by default along the right side of the screen.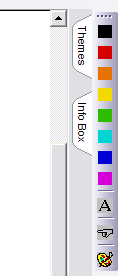 If the Color Toolbox is not displayed, you can click the icon on the Main Toolbox.

On the Color Toolbox, click and hold one of the color buttons. This opens the color drawer, which shows eight shades of the color. These work like the tools in the Main Toolbox: click, hold down, slide the pointer over to the color you want, and release. The color you picked shows up on the bottom of the Main Toolbox, indicating that it is now the active drawing color. It also becomes the top color in its drawer.
The A (for "Apply") button applies the current drawing color to the items you have selected. The pointing finger is used to grab the color of the selected object and make that the current drawing color.
The color palette icon opens the Color window, in which you can create a custom color, based on the currently active color. You can also open this window by double-clicking on a color button,or be selecting Options / Custom Colors. .