Students Area Main Menu
The Student's Area main menu is the starting point for your students in the program. From this screen, they can enter the Lesson Area and begin taking lessons; navigate to practice exercises; enter the Games screen and activate a number of fun typing game; check out the Reports area to view their progress; and more.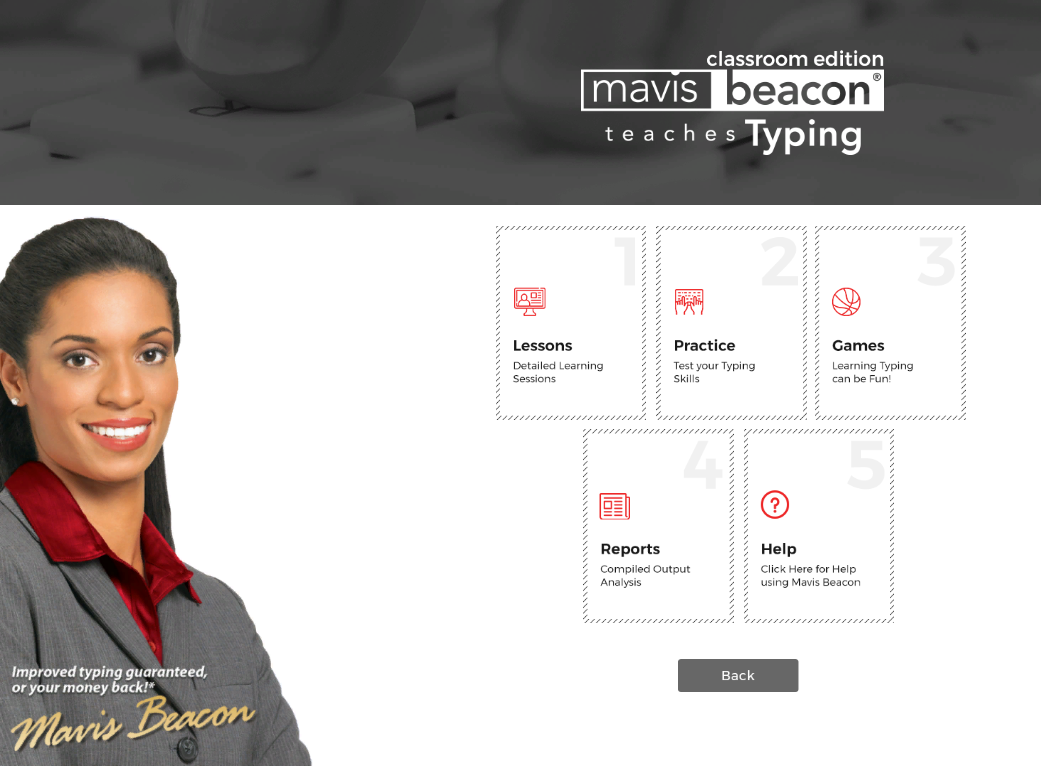 Once your students have logged in to Mavis Beacon Teaches Typing Classroom Edition, they can choose from the following options:
Take a Lesson: This feature takes your students to the Lesson Area screen where they can begin working on Mavis Beacon Teaches Typing Classroom Edition lessons.

Practice Area: This feature directs students to the Practice area screen where they can further develop their typing skills between lessons, quizzes, and tests.

Typing Games: This feature takes students to the Games screen where they can select from a number of fun games that offer an entertaining but challenging way to practice their typing.

Reports: This feature launches the Reports screen where students can monitor their individual progress.

Help: This feature displays the Finger Positioning Guide screen, providing necessary and always-on assistance to struggling students.

Back: This feature returns students to the previous screen where they can exit the program if they wish.
As a teacher, you can also experiment with the various features in the Student's Area without being tracked as a student. Simply, select your profile from the Teacher class profile, enter your administrative password, and begin working in the Student's Area. For more information about the Teacher class profile, see the Teacher Class Profile section.