Teacher Class Profile
The Teacher class profile is a default setting that's automatically created upon installation of the program. This class profile lets you access the Student's Area of the program and experiment with various settings and lessons for curriculum planning purposes. Your activity in the Teacher profile does not affect other class profiles or the student profiles within them.
To enter the teacher class, you must first set yourself up as you would a student. Select the Teacher class profile from the Select Your Class drop-down menu in the Class Management Area. Next, click Add on the Student menu, just below the Class menu. An Add Students dialog box appears with multiple text boxes for you to enter the first and last name of up to five teachers as well as an option for you to immediately add another set of teachers.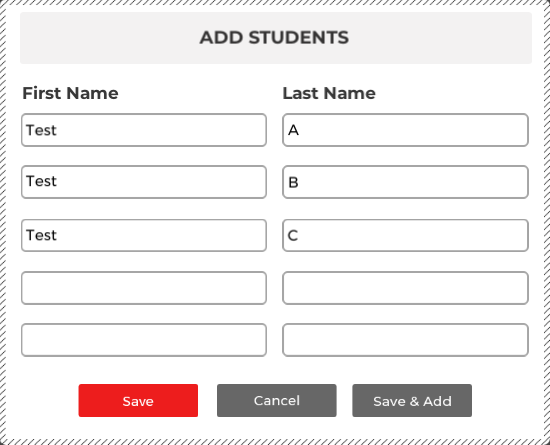 You can type the first and last name of each student. You should review the specific guidelines for selecting profile names and navigating the Add Student dialog box in the Adding Students section. The guidelines for these features are the same for teacher profiles as they are for student profiles.
When you finished entering all of your student names, click Save to create your new teacher profiles and return to the Class Management screen. By default, these teachers assume the program settings for the Teacher class profile—which are the same as those for Grade 9 to Adult. For details about the Grade 9-Adult default settings, review the Class Default Settings section. You may want to customize the settings of your teacher profile. For more information, see the Editing Students section.
To begin using your teacher profile, return to the welcome screen by clicking Back on both the Class Management screen and Teacher's Area main menu screen. On the welcome screen, click Student's Area, and then all students in Teacher class will appear in "Select Your Name"
Select your name from the list and click OK.